GALLERIA RESIDENCES
General Maxilom Avenue Extension Cebu City
Surround yourself with all of life's wonderful pleasures. Indulge in the delights of hop-in hop-off leisure, dining and retail discoveries.
Galleria Residences is a three-tower resort-inspired residential community that sits on a 6,600 square meters of prime land in Cebu, fully integrated within the Robinsons Galleria Cebu Complex, which consists of a full-service mall, a hotel and an office building. With its very own retail area at the ground floor and modern architectural design, which incorporates natural lighting and ventilation all throughout the development, enjoy a distinctly refreshed and relaxing living experience.
As wellness is the sum of deliberate choices, this integrated development is carefully-planned for your rejuvenation. The façade shimmers over the heart of Cebu at night, as its modern architecture incorporates continuous and
interesting vertical and horizontal lines in neutral, monochromatic colors signifying modesty, balance and elegance.
Here, your life flows with ease between home, work, school and leisure, so you get to enjoy the true essence of life in Cebu – relaxed and laidback yet full of amazing opportunities.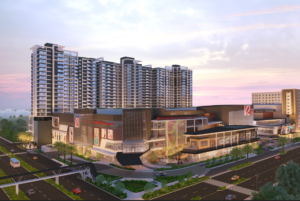 Strategically located along Maxilom Avenue, a thriving commercial district accessible to key establishments, Galleria Residences will serve as your own gateway to all of the city's most interesting and important destinations.
Let life flow gracefully and enjoy the benefits of club like experience never before seen in the city. Explore, make new experiences and create precious memories with friends and loved ones. No matter what you're into, there's always something for you to enjoy and look forward to everyday at Galleria Residences.
Cure for your body and awaken your sense with wellness amenities such as a fitness gym, a kiddie and lap pool, and more. Galleria Residences' wide array of amenities let you enjoy unlimited leisure possibilities to recharge, relax and maximize your social lifestyle.
Building Features
Main entrance lobby with reception counter
Three elevators (2 passenger, 1 passenger cum service)
CCTV monitoring on selected common areas
Automatic smoke detectors, fire alarm and sprinkler system at all common areas
Annunciator panel with emergency speaker at selected floors
Water is supplied by an elevated water tank and underground cistern
Standby power generator for all common areas
Individual mail boxes
WiFi at selected Amenity Areas
Garbage holding room located at Basement 1
Garbage holding area per residential floor
Building administration office
Security room
Transformer and genset room
Driver's lounge and toilet
Sewage Treatment Plant
Two (2) fire exit stairs with well-lighted signages conforming to the Fire Code of the Philippines
UPDATED AS OF MARCH 27,2019
TOWER 2
STUDIO
UNIT DETAILS
Floor Level: 21-L
View: Amenity Area/Mall/East
1 Toilet and Bath
Unit Area: 25.5 sqm
Total List Price: 4,184,002
20% Down payment: 836,800
Reservation Fee: 25,000
Monthly Equity: 16,567 for 49 months
80% Remaining Balance thru Bank Financing: 3,347,201
ONE BEDROOM
Balcony
Floor Level: 15/F
View: Sea view/Commerce St./SRP
1 Toilet and Bath
Unit Area: 36 sqm.
Balcony: 4.5 sqm.
Unit Area: 40.5 sq.m
Total List Price: 5,582,041
20% Down payment: 1,116,408
Reservation Fee: 25,000
Monthly Equity: 22,273 for 49 months
80% Remaining Balance thru Bank Financing: 4,465,632
UNIT DETAILS
One Bedroom Perspective Interior (Click the thumbnail to enlarge)
HOME is WHERE our STORY BEGINS….
How to start??
 Feel free to ask more about this project..
We will be happy to serve you…
Jean P. Amancia
Real Estate Practitioner
License No: CVRFO-A-03/17-0185
MOBILE PHONE NUMBER
Sun Cell: (+63)925-587-1064
Globe: (+63)917-129-0370
Email: luckyjean0716@gmail.com
https://www.facebook.com/glennjean.amancia
Website: cebuamanciaproperties.amancialandrealty.com
 We can help you process your housing loan, MECO/VECO & WATER Connections..
View all my Listings of House and Lot  for sale in Cebu City, CEBU SOUTH PROJECTS  Talisay City, Minglanilla, Naga Cebu, San Fernando, Carcar City and Toledo City, Argao, CEBU NORTH PROJECTS Mandaue City, Consolacion, Liloan, Compostela, and Lapu-lapu City.
Figures above are for illustration purposes only. Actual monthly installment and effective interest rate shall be indicated in your loan documents.