ASTRA CENTRE
Astounding, Aspiring, All Here.
The Astra Centre is the next go-to destination in Cebu with its 1.2-hectare mixed use property development along AS Fortuna in Mandaue City. Its astounding designs and unique global feature encompass its two towers rising from one podium.
The Astra Centre has four major components namely the: Astra Centre Mall, an upscale boutique mall with cinema; Radisson RED, a world-class hotel targeted to the the new generation travellers; One Astra Place, a residential condominium replete with infinity pool, sky deck, gym, and function rooms; and Astra Corporate Centre with 12 floors of modern office spaces.
Astra Centre Condominium soon to rise in front of Oakridge Business Park, in the heart of A.S. Fortuna Street. A bustling business and residential corridor located in Mandaue City.
The bridge between two thriving metro cities, Astra Centre caters to the convenience and accessibility that thriving professionals and residents want. A space where everything you aspire for is right outside your door.
Astounding Designs that Captivate & Inspire.
Standing 29 storeys tall and occupying an area of 1 hectare, with its upscale designs and unique global features. Especially designed by Callison RTKL, World's Top Design Consultant and RMDA Architects, one of the Philippines' top architectural firms.
Astra Centre is going to stand out in this beautiful city that
combines Mandaue and Cebu. When we talk about astounding designs, this design is going to be the benchmark of all developers.
It will develop the two-tower Astra Centre on a 1.2-hectare lot in Mandaue City. The project looks to take advantage of the lack of integrated developments in the area.
Astra Centre's strategic location combined with the synergies that will arise from the development's components ensure a high-energy development.
 ASTRA CENTRE CONDOMINIUM
The Lifestyle You Want is All Here.
Astra Centre is a full-range, mixed-use development carrying the astounding designs of its prominent residential towers (2), world-class hotel (3), modern office spaces (1), and upscale boutique mall (4).
ASTRA CENTRE- Lifestyle Mall
of floors: 2 Levels
Gross Floor Area (GFA):4,000 sqm.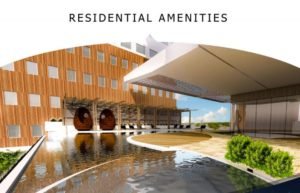 ONE ASTRA PLACE- Residential Condominium
of Floors: 15 Levels
of units: 478 Units
RADISSON RED HOTEL
of floors:7 Levels
Gross Floor Area (GFA): 10,000 sqm.
ASTRA CORPORATE CENTER
ONE ASTRA PLACE- Residential Condominium
Astra Centre's residential condominium will be called One Astra Place, and will have 478 units across 15 floors.
There will be studios sized 22 sq.m. and one-bedroom units with 36 sq.m.
Residents will be able to use amenities such as an infinity pool, a kiddie pool, function rooms, a gym, an alfresco area, and a skydeck.
The One Astra Place will begin on the 14th floor.
All floors from the 14th – 28th are typical in layout except that the 14th floor is less by 2 units because this is where we find our mechanical room.
Per floor you only have four 1 bedroom units. All the rest are studios different in sizes.
All units come with painted walls, partitions and ceilings, toilet and bath with fixtures, kitchen sink with countertop, overhead and base cabinets. We have our fire detection and suppression system, Provision for kitchen exhaust, Provision for split type air conditioning.
LIVE EXTRAORDINARY at ONE ASTRA PLACE
Experience a vibrant and integrated lifestyle in the One Astra Place, a 15-storey residential condominium with a wide range of world-class amenities and features.
 UNIT FEATURES
Painted walls, partitions & ceilings
Tiled dwelling areas
Tiled toilet & bath with complete bathroom fixtures
Kitchen sink with countertop
Kitchen based and overhead cabinets
Installed fire detection & suppression system
Provision for kitchen exhaust
Provision for cable internet & telephone
Provision for water heater
Provision for window-type or split-type air condition system
BUILDING FEATURES:
Separate and independent lobby
4 Elevators
All units are combinable
5m minimum corridor width
100% Backup power
Garbage holding room per floor
CLI Property Management Service
CCTV Security System
Full Range Amenities
Infinity & Kiddie Pool
Function Rooms
Gym
Al Fresco Area
Rooftop Lounge/Sky Lounge
Radisson RED Hotel
The first tower will have 30 storeys with residential and hospitality components. The hotel will be operated by the Radisson Hotel Group, bringing in its Radisson RED brand for the first time to the country.
 Radisson RED will offer 146 rooms which will cater to millennials with round the clock facilities, high-speed WI-FI, and "grab and go" food and beverage options, among others.
Each guest room will have a minimum size of 28 square meters. They can also grab a snack, meal or drink in its two food and beverage outlets, namely RED Deli and OUIBar. The hotel will also have a 24-hour Red Face Gym to give guests the option to work out around the clock.
Clients will also have the convenience of digitally checking in via the Radisson RED app, enabling them to head straight to their room, and unlock the door using their smartphone, bypassing reception.
GENERATION OF TRAVELERS
Welcome to Radisson RED, a new hotel philosophy that connects with the ageless mindset through art, music and fashion. Located in Astra Centre, Radisson RED is perfectly suited for Asia's new generation of travelers.
 RADISSON RED UNIT FEATURES
Painted walls, partitions & ceilings
Tiled dwelling areas
Kitchen sink with countertop
Kitchen based and overhead cabinets
 ASTRA CENTRE LIFESTYLE MALL
Embrace a Life of Leisure at Astra Centre Mall
 Bask in the gentle breeze of the wind with its mix of indoor and outdoor set-up, It is your new center for delicious food, great entertainment, and exciting recreation.
 MALL FEATURES:
Interior mall plaza with wide variety of stores
High ceiling with atrium
Paseo w/ outdoor dining, food, beverages & retail stores
Paseo connects to sunken garden and supermarket
More Photos (Click the thumbnail to enlarge)
Construction Updates (Click the thumbnail to enlarge)
UPDATED AS OF OCTOBER 9,2023
STUDIO UNIT
UNIT DETAILS:
Floor Level: 11th
Unit Area: 22.64 sqm
Total Contract Price: 3,941,549.00
12% Down payment/Equity: 476,400.00
Less Reservation Fee: 30,000.00
==============================
Monthly Down payment/Equity: 12,400.00 in 36 months
88% Remaining Balance thru Bank Financing
Loanable Amount: 3,465,149.00
1- BEDROOM A-5 UNIT
UNIT DETAILS:
Floor Level: 23rd  
Unit Area: 36.56 sqm
Total Contract Price: 6,382,138.00
12% Down payment/Equity: 768,000.00
Less Reservation Fee: 30,000.00
==============================
Monthly Down payment/Equity: 20,500.00 in 36 months
88% Remaining Balance thru Bank Financing
Loanable Amount: 5,614,138.00
HOME is WHERE our STORY BEGINS….
How to start??
I am willing to help you, for your real estate needs.
 Jean P. Amancia
Real Estate Salesperson
DHSUD CVRFO-A Lic: 12-18-0185
Email: luckyjean0716@gmail.com
Facebook: https://www.facebook.com/glennjean.amancia
Website: https://cebuamanciaproperties.amancialandrealty.com/
 Our team of Amancialand Realty….
 We can help you process your housing loan, MECO/VECO & WATER Connections..
View all my Listings of House and Lot  for sale in Cebu City, CEBU SOUTH PROJECTS  Talisay City, Minglanilla, Naga Cebu, San Fernando, Carcar City and Toledo City, Argao, CEBU NORTH PROJECTS Mandaue City, Consolacion, Liloan, Compostela, and Lapu-lapu City.
 Figures above are for illustration purposes only. Actual monthly installment and effective interest rate shall be indicated in your loan documents..