MANDANI BAY QUAY TOWER -3
 North Reclamation Area, Mandaue City
Mandani Bay is a premium mixed-use development in Mandaue City. It occupies a waterfront site of approximately 20 hectares with a prominent location between Mactan Island the home of Cebu International Airport and Cebu Business Park. The project will be developed in phases over more than 10 years.
It mirrors the splendor of the Sydney Harbour in Australia, the Marina Bay in Singapore, and Victoria Harbour in Hong Kong.
Mandani Bay will be primarily residential with retail and office components that will combine to form a master-planned urban community. Key features of the project are its strategic location and extensive water frontage.
600-Meter Water Frontage
Fronting Mandani Bay is a 600-meter water frontage that provides a stunning view of the coast and surrounding skyline, the Waterfront and Boardwalk emphasize Mandani Bay's extensive water anterior to further set Mandani Bay apart from any other development in the country and serves as the highlight of this spectacular landmark.
Phase One will comprise two blocks of approximately 1,200 condominium units.
In addition to typical studio to 3-bedroom units there will be a number of special units including loft units, garden duplexes, townhouses and penthouses. The project will also provide a range of leisure and recreational facilities as well as car parking.
 World-Class Lifestyle Destination
Cebu is already a bustling metropolis. With Mandani Bay, it adds a transformative landmark that transcends the typical residential and commercial offerings of a mixed-use property.
Mandani Bay is a cultural experience that is set to truly transform Cebu into a world-class lifestyle destination.
With Cebu in the center of the Philippines, and the Philippines at the center of the Asia-Pacific, Mandani Bay's location is a strategic jumping-off point to all key areas in the region.
 THE FOOTBRIDGE
Built around a lifestyle of connectivity, this premium mixed-use community hosts a series of expansive podium blocks interconnected by footbridges. Residential towers rise from each of the podiums' amenity roof decks, whilst street front retail thrives along the wide boulevards.
 At the base, the buildings are also connected by a system of exclusive parking spaces weaving throughout the property. For strolling above ground or driving and parking underground.
 Mandani Bay provides complete convenience, allowing time for loftier pursuits.
MANDANI BAY QUAY
Mandani Bay Quay's setting within the development enables it to take in the verve of the encircling cityscape. On this side of the property, feel the electrifying spirit of the cities of Cebu and Mandaue, right at your doorstep.
This cluster, with three residential buildings and an office tower, is amplified by spaces dedicated to various fitness activities in addition to standard amenities. These are collectively called the Active Zone, and include shared areas such as the Adventure Playground, Outdoor Fitness Area, and Sports Hall. Residents of Mandani Bay Quay get exclusive use of a 50-meter Lap Pool, Water Play Area, Reflexology Area, and a Multipurpose Lawn, among other amenities.
In every way, Mandani Bay Quay will stand out with its passion for the energetic life well lived.
 AN ACTIVE LIFESTYLE AMONG RESIDENTS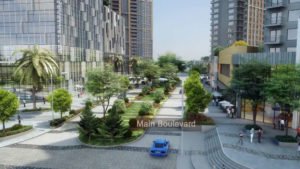 Within the property, the Green Promenade at 40 meters wide and 350 meters long, this extensive tree-lined avenue cuts through the property, lending a grounded and refreshing spirit to the environment and encouraging an active lifestyle among residents.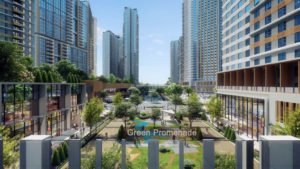 This splendor is further played up by a vast complex of retail selections found across five multi-level podiums interconnected by footbridges.
 Interconnecting the tower podiums throughout the property, footbridges provide for easy and convenient conveyance from one point to another.In every way, Mandani Bay will awaken, electrify, and inspire
Shop big brands on an intimate scale in High Street.
Visit the Art and Cultural Districts for an unending supply of local and international art and entertainment to take in and experience. If you're up for a gastronomic delight, head down to Food Street. Find what electrifies you in this complete lifestyle destination.
The 30-meter Main Boulevard walkway is located next to Mandani Bay Suites.
Continuing Ocean View Avenue and running alongside the gorgeous Waterfront, the Main Boulevard allows for an encircling view of the seaside and the cityscape beyond.
 AMENITIES OF MANDANI BAY
Feature Pavilion
25-meter Lap Pool
Pool Terrace
Aqua Deck
Fountain
Barbecue Pit
Outdoor Lounge
Outdoor Showers
Kids' Pool
Water Feature
Clubhouse
Outdoor Reading Garden
Outdoor Fitness Facilities
Playground
Yoga Deck
Tower 1 Lift Lobby
Tower 2 Lift Lobby
Gym
COMMON AREAS and FEATURES OF MANDANI BAY
GROUND FLOOR
Reception Area
Lounge Area
Common M/F Restroom
Mail Room
Property Management Office
Central Garbage Collection Area
 RESIDENTIAL FLOORS
Naturally Ventilated Corridors
Provision for Garbage Collection on Every Floor
LIFTS
4 Cars per Tower
3 for Passengers, 1 for Passengers/Service
CCTV
Ground Floor Lobby
Lift Cars
Amenities Area
Parking Entrance
Retail Area Perimeter
PARKING
Card System Entry
Separate Access for Residential and Commercial Parking
 FITTING & FINISHES OF MANDANI BAY
Living/Dining Area
Flooring (Homogeneous Tiles)
Kitchen
Flooring (Homogeneous Tiles)
Cabinet (Laminated MDF or equivalent)
Countertop (Solid Surface or equivalent)
Bedroom
Flooring (Laminated flooring or equivalent)
Closet (Laminated MDF or equivalent)
Toilet & Bath
Flooring (Ceramic Tiles)
Wall (Ceramic Tiles)
Maid's Room/Utility Area(Ceramic Tiles)
Walls & Ceiling(Painted)
Heat Detector
Smoke Detector
Fire Sprinkler
Audio Guest Annunciator
Telephone Lines
CATV Outlet
Provision for Water Heater*
Provision for Split-Type A/C*
Provision for Washer/Dryer*
 MANDANI BAY ACCESSIBILITY
Boardwalk Plaza – 0.57 km
Park Mall Entrance – 0.60 km
Hilot Healing Spa – 0.63 km
ParkMall – 0.71 km
Gardin Del Sole – 0.82 km
 SCHOOLS
Cebu Doctors University – 0.55 km
University of Visayas Mandaue – 1.07 km
Ikthus Main – 1.18 km
Saint Paul College Foundation Inc. – 1.56 km
Lapu Lapu Central Elementary School – 1.59 km
RESTAURANTS
Pritong Manok CDU – 0.52 km
Jovens Grill – 0.63 km
Joven Restaurant Manila FoodShop – 0.63 km
Tandoori – 0.75 km
Sachi Authentic Japanese – 0.77 km
 HOSPITALS
UCMed – 0.64 km
Mandaue Hospital – 0.66 km
UC Med – 0.74 km
Chong Hua Heart Cancer Hospital – 0.79 km
Chong Hua Cancer Center Mandaue – 0.81 km
More Photos (Click the thumbnail to enlarge)
UPDATED AS OF OCTOBER 18,2023
 STUDIO 
UNIT DETAILS:
Fully Furnished
NO balcony
Floor: 3317
View: City/Mountain
Unit Area: 29.75 sqm
1- Toilet and Bath
 TOTAL PURCHASE PRICE: 8,851,666.00
20% Down payment/Equity: 1,770,333.00
Reservation Fee: 50,000.00
Monthly Down payment: 35,108.00 for 49 months
80% Remaining Balance thru Bank Financing
Loanable Amount: 7,081,333.00
======================================================
STUDIO
UNIT DETAILS:
Semi-Furnished

NO balcony

Floor: 1929

View: City/Mountain

Unit Area: 29.75 sqm

1- Toilet and Bath
 TOTAL PURCHASE PRICE: 8,173,812.00
20% Down payment/Equity: 1,634,762.00

Reservation Fee: 50,000.00
Monthly Down payment: 36,854.00 in 43 months
80% Remaining Balance thru Bank Financing

Loanable Amount: 6,539,050.00
Studio Floor Plan (Click the thumbnail to enlarge)
======================================================
1- BEDROOM FULLY- FURNISHED
UNIT DETAILS:
Floor/Unit no.: 3220
View: City/Mountain
Unit Area: 58.77 sqm
With balcony
1- Toilet and Bath
TOTAL PURCHASE PRICE: 16,332,463.00
20% Down payment/Equity: 3,266,492.00
Reservation Fee: 75,000.00
Monthly Down payment/Equity: 65,132.00 for 49 months
80% Remaining Balance thru Bank Financing
Loanable Amount: 13,065,970.00
1-bedroom Floor Plan (Click the thumbnail to enlarge)
======================================================
2- BEDROOM SEMI- FINISHED
UNIT DETAILS:
Semi-furnished
Floor/Unit: 3131
View: Amenity
Unit Area: 81.78 sqm
With balcony
2- Toilet and Bath
TOTAL PURCHASE PRICE: 23,327,123.00
20% Down payment/Equity: 4,665,424.00
Reservation Fee: 100,000.00
Monthly Down payment/Equity: 95,113.00 in 48 months
80% Remaining Balance thru Bank Financing
Loanable Amount: 18,661,699.00
2-bedrooms Floor Plan (Click the thumbnail to enlarge)
HOME is WHERE our STORY BEGINS….
How to start??
I am willing to help you, for your real estate needs.
 Jean P. Amancia
Real Estate Salesperson
DHSUD CVRFO-A Lic: 12-18-0185
Email: luckyjean0716@gmail.com
Facebook: https://www.facebook.com/glennjean.amancia
Website: https://cebuamanciaproperties.amancialandrealty.com/
 Our team of Amancialand Realty….
 We can help you process your housing loan, MECO/VECO & WATER Connections..
View all my Listings of House and Lot  for sale in Cebu City, CEBU SOUTH PROJECTS  Talisay City, Minglanilla, Naga Cebu, San Fernando, Carcar City and Toledo City, Argao, CEBU NORTH PROJECTS Mandaue City, Consolacion, Liloan, Compostela, and Lapu-lapu City.
 Figures above are for illustration purposes only. Actual monthly installment and effective interest rate shall be indicated in your loan documents..